Showing 30 posts tagged UF
Countries all around have joined in the inevitable process of globalization. People are learning foreign languages, working abroad, and cooperating with people from other countries to reach a common goal. As a college student, where do you stand in this process?
According to the Career Resource Center's Sr. Asst. Director for Career Development Gregg Henderschiedt, there is no escaping globalization. He said that even for people who want to work locally, it never harms to understand the global situation.
"Even if a student has no interest in working abroad, he or she must be aware that we are dependent on other places," he said. "The more you understand things globally, the more marketable you are everywhere."
For those students, however, who are interested in starting an international career, Henderschiedt said there are several things they can do to get their foot in the door:
A.     If you have had no international experience:
a.     Join an international club, such as the Hispanic Student Association, the French Club or The Navigators International Program
b.     Study a foreign language
c.     Do a minor in area studies such as Asian Studies, Latin American Studies, etc.
d.     Become a conversation partner
e.     Study abroad
These activities, among a few others, show an effort that you are trying to be globally competent, and this will reflect positively when you are filling out internship or volunteering applications.
B.     If you have had international experience, but are trying to transition into an international career:
a.     Also study abroad: It is a controlled, non-threatening environment, but it is challenging at the same time.
b.     Keep in mind that international experience builds up:
                                               i.     It is a process of learning patience and flexibility
                                             ii.     Learn that when working abroad, you don't always have to be in control
                                            iii.     Learn that there are other ways of being
Overall, Henderschiedt strongly recommends considering joining the international –career world.
"Having international humility teaches you a huge dose of humility," he said. "But in a good way."
If you are interested in volunteering, teaching or interning abroad, come to the Career Resource Center's brand new Global Career Series. The three-event series will teach you how to jumpstart r international career, it will teach you the necessary skills to work internationally, and it will make you aware of the different opportunities to work abroad.
For more information, please visit our events page: http://www.crc.ufl.edu/students/StudentCenterEvents.html
As college students, most of us can understand the lure of social media. Instead of studying for that big exam or writing that important paper, we can't help checking our social networks to see what our friends are doing.
While endless pictures and status updates can be entertaining, social media is great when it comes to searching for a job.  From networking to highlighting your unique skills and assets, we've got tips on how you can impress employers before your initial interview.
Facebook
Privacy settings for your profile and photos can make or break you when it comes to the job search. With roughly 45% of employers checking social media before hiring, it's a good idea to keep your personal and professional lives separate.
Regardless of privacy settings, employers will be able to see your profile picture and cover photo. While selection of an appropriate profile picture is suggested, your cover photo is a great way to show off your personality. And depending on your major, it could also be a chance to highlight your artistic ability if the photo is something you created.
Twitter
Research about a company can be important before starting a new job. Twitter is a great tool that lets you follow companies and see how they interact with their customers.
Networking is also great on Twitter. It gives you the chance to "follow" someone whose work you admire and possibly start a conversation, which could potentially lead to job opportunities.
LinkedIn
When it comes to highlighting your job skills, LinkedIn is your best option. Instead of sending a "friend request," LinkedIn gives you the option to "connect" with people you know or have known in the past. When you're first starting out on LinkedIn, it might be easier to start with people you currently know. Eventually, you'll get recommendations of people who are involved in similar activities and groups, further enhancing your professional network.
Depending on your privacy settings, employers can view your entire profile or public profile with select pieces of information available for everyone to see. Your resume, for example, could be something you put on your public profile so employers can learn about your skills even if you aren't one of their "connections."
 Of course, you can always attend events at the CRC that will help you in your professional development. In addition to various social media workshops, we help students with resume critiques and mock interviews. While social media can be a useful tool, it never hurts to be prepared in every possible way.
For more information about the Career Resource Center, please visit www.crc.ufl.edu.
Written by: Kelsey Reese
Completing a four-year degree is the ideal gateway to enter the workforce. However, for some, continuing with a post-graduate degree may seem like an ever more appealing option.
On Oct., 25 from 10 a.m. to 2 p.m., the Career Resource Center (CRC) is hosting its 27th Annual Graduate and Professional Schools Information Day for all University of Florida students and alumni who are interested in pursuing a graduate or professional degree.
More than 150 programs from all over the country will gather at the Reitz Union Grand and Rion Ballrooms at the event to answer students' questions about the application process, financial aid, student life, campus visits, or any other relevant topics concerning graduate school.
This event is structured to be casual and relaxed, which allows students to come "as they are", with no need to "dress to impress" or bring their resumes.
According to Angel Iverson, assistant director for career events at the CRC, all students can benefit from this event. Freshmen and sophomores have the opportunity to learn which classes they should take if they want to pursue a specific graduate degree. Juniors, seniors and alumni will benefit by learning about the admissions process and financial aid. Either way, this is also a great chance to network because several schools from around the country, send representatives who are typically involved in the selection process.
Some of the programs that will be in attendance are:
-       Columbia Law School
-       Duke University (Engineering)
-       Notre Dame Law School
-       Ohio Northern University
-       Savannah College of Art and Design
Interested? Just drop by in between classes!
For more information, please visit www.crc.ufl.edu/GAP
We all pride ourselves on being accepted into and attending one of the most prestigious universities in the country. However, it's safe to say that this pride often clouds our ability to understand that there is always room for growth and there are a plethora of things in this world that we have yet to learn, especially when it comes to professionalism—even more so with dressing professionally.
Attending Career Showcase this Fall, I encountered some students who missed the mark when it came to dressing business professional, or even business casual. Today, we'll focus on the ladies. Let's go over some big No-No's that I picked up on throughout the event.
Body-Con/Tight/Short Skirts

Don't get me wrong, these skirts are an absolute closet essential. However, in a professional atmosphere these are quite the faux pas. Nothing is professional about constantly readjusting and pulling down these bad boys, and there is certainly nothing professional about the colors, style and material. It's vital that you save theses for a night in Midtown and switch it out for a classy pencil skirt or if you'd like to avoid a skirt altogether, go for some loose fitting slacks.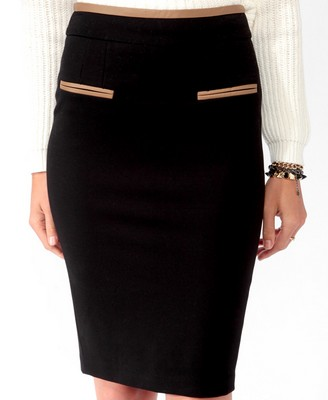 So remember: Knee length, polyester/rayon, black or navy blue

Patent/Platform Pump


These sassy shoes are no doubt fun and demure, but can they make the transition to business professional? Shoes are tricky, but there are several factors that one must consider to ensure that their business professional shoe is everything it needs to be. For one thing, anything shiny is a big misstep. So that means patent pumps are out. You also want to avoid anything higher than four inches. These shoes are an investment for your professional future, so it may be a bit pricier than your typical pair. Aldo hits the nail on the head with their DIXIL 3.63 inches, leather, low cut, low profile heel.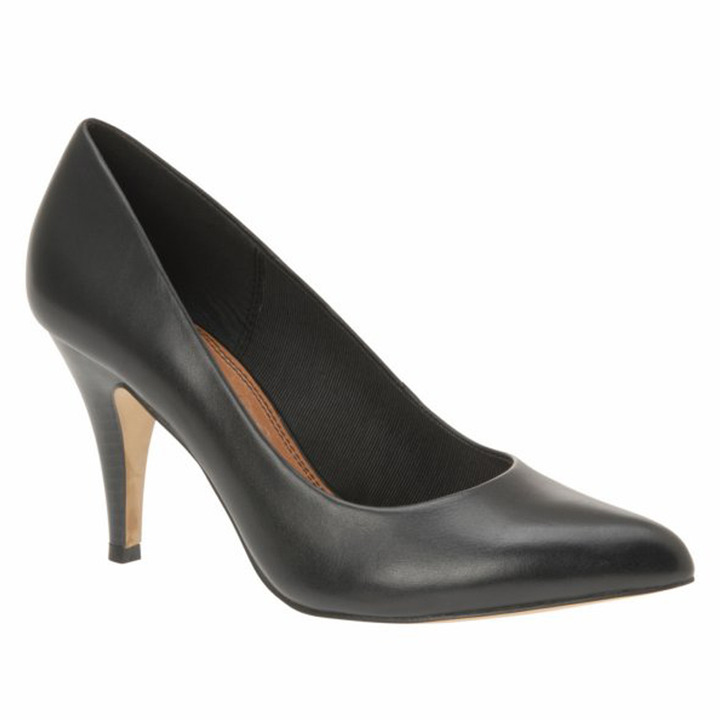 So Remember: low heel, no shine

The Non-Traditional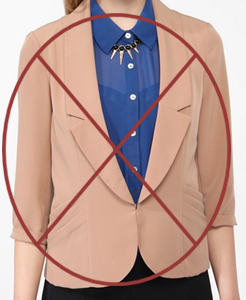 Blazers are tricky. So unless you're walking into an interview for an Editor in Chief position at a high end magazine (and even then you would still want to follow this rule of thumb), you want to avoid color. Neutral colors are your friend and you want to embrace them. That means blacks and navies are what you're going to lean towards. You can get away with snagging an inexpensive blazer at Forever 21 and be set for your college career. But when it comes time for those serious interviews, start getting comfortable with department stores like Macy's and JCPenney's where you can find sturdier and long lasting blazers.

So remember: make sure it fits, unroll your sleeves, and keep the colors neutral

Last minute details:
·         Perfume: keep at a minimum or none at all
·         Jewlery:
   Earings – small hoop or studs
   Everything else – subtle and small
·         Nails:
            Clipped, subtle or no polish
·         Hair: Pulled back and away from your face
In today's competitive job market, experience is not the only factor that puts one job candidate ahead of the rest. Nowadays, employers also pay close attention to what a candidate says or does during an interview, which may ultimately be what makes or breaks their chance of getting a job offer.
According to Sarah Habib, client solutions associate in Nielsen's Emerging Leaders Program, there are several things Nielsen is looking for in interviewees that increase their chance of receiving a job offer:
1)   Be informed
Candidates should be informed about the company they're trying to get a job with. In this case, Habib said she is looking for candidates who know about Nielsen because that's usually a good indicator that a candidate is interested in the company.
"When you come and talk to us, we want to know that you have done your research and your homework," she said. "If you show up asking me what Nielsen is, that's a red flag."
According to Habib, candidates should already know what position they are interested in, and then, during the interview, they can inquire about the specifics of that position.
2)   Be able to communicate effectively
Habib said that whenever she asks a question during an interview, she is looking for a candidate who is able to answer her question effectively and descriptively.
"Being able to communicate about yourself, to me, is what's important," she said.
Among other things Habib mentioned that make some candidates stand out over others, are being confident, being on time, dressing appropriately and bringing an updated resume.  However, if there is one factor that will make a candidate rise above the rest it is, "their enthusiasm," she said. "You want to blow us away with your enthusiasm and energy for why you want to work with the company you're interviewing with."
Habib finally suggested that before meeting a potential employer, candidates should practice with friends, because "practice makes perfect when it comes to interviewing."
Students can practice interviewing techniques by using the CRC's Express Drop In service, weekdays between 9 a.m. and 4 p.m. No appointment is needed. Additionally, students can use InterviewStream when logged into Gator CareerLink.
For more information about the Career Resource Center please visit www.crc.ufl.edu.
When it comes to interviewing, the Career Resource Center (CRC) offers plenty of opportunities for you to practice talking with potential employers. With a competitive talent pool, it's imperative to be polished and prepared with your delivery. 
With recruiting season approaching, the CRC recommends that UF students take advantage of every opportunity to learn how to improve their interviewing skills.  It's not uncommon for students to get nervous, but preparation helps. The CRC has services to help students polish their skills, such as Express Drop In, where students can request a mock interview with a Career Ambassador, or using InterviewStream, a tool in Gator CareerLink.
Career Showcase, the largest career fair in the southeast, will host over 300 employers looking for students to consider for full-time positions and internships.  The two-day event which is held on the O'Connell Center on October 2nd and 3rd, is expected to have over 5,000 students attend. Angel Iverson, assistant director for career events, says that most students don't realize that interviewing skills can be improved with time and practice. In a high energy environment such as Showcase, she recommends students take a moment to gather themselves before meeting employers. "Take a moment to breathe at the bleachers," says Iverson. "Practice what you're going to say before you approach an employer."
With practice, students will feel confident with themselves and with what they are saying to employers.  Below are four tips on being prepared to meet an employer:
Practice your introduction with a friend or with a CRC Career Ambassador, who can provide feedback
Research the company in advance to show you're knowledgeable and prepared
Practice at other events with employers, like information sessions hosted by the CRC
Have your resume critiqued or have a mock interview during an Express Drop-In service.
For more information about preparation tips or Career Showcase, visit www.crc.ufl.edu
Written by: Kelsey Reese


Come use our Express Drop In Service! We'll do Resume and Cover Letter critiques and career planning advice!
 With so many returning and new students this summer on campus, the Career Resource Center has something special planned for them.
The Part-Time Job Fair, presented by the CRC and Student Financial Affairs, will be held on July 12th from 10 a.m. to 2 p.m. at the Reitz Union Colonnade.
At this event, campus and local employers will share part-time employment opportunities with UF students and alumni available for summer or fall.
Tiffani Stephenson, career fairs student assistant at the CRC, recommends students research participating companies through Gator CareerLink. She suggests that students list the top 10 employers that pique an interest, and prepare questions for them. To prepare for the event, students are invited to visit the CRC for Career Planning appointments and resume critiques.
Angel Iverson, assistant director for Career Events, suggests these five tips to prepare for the Part-Time Job Fair:
1) The event welcomes students regardless of whether they qualify for Federal Work Study or not. However, if you are a student, and qualify for Federal Work Study, don't forget to bring your permit.
2) Bring your class schedule for summer and fall. A lot of employers will keep students for the fall semester as well.
3) Think about how many hours you are willing to work a week to negotiate with employers.
4) Practice your "elevator speech". In other words, practice what you're going to say to convince employers why you're the right fit for the job.
5) You don't have to bring your resume, but it is recommended to bring several copies of your updated resume to show to employers.
For more information about the Part-Time Job Fair, visit the CRC's website at www.crc.ufl.edu
Written by: Ana Perez
Watch this short clip for tips on what to bring to the Part-Time Job Fair on July 12!
Here are some tips from the Career Resource Center staff on how to answer tricky interview questions.
Do you have any other tips?
If you need help practicing your interview skills, make an appointment with one of the CRC advisers today!  Go to www.crc.ufl.edu for more information.